Parascending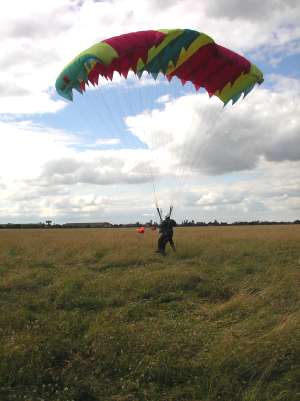 Lift-off!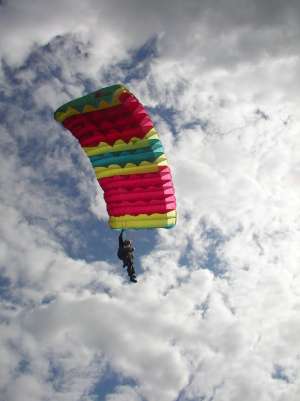 Flying free in the blue
We took a group of our scouts to Sky High at Sky Lincs in Lincolnshire to experience the exhileration of parascending
On a two night camp we took in land-yachting and go-karting but the highlight of the weekend was to have a go at parascending; being towed behind a landrover whilst strapped into a parachute harness, up to a height of a couple of hundred feet, where the experienced parascending pilot we flew with released the cable and we flew in some exhilerating tight turns to land back on the field way below us
We started with some PLFs; parachute landing falls. Under expert tuition we practiced getting our knees together, our elbows in and rolling so that the ground rolled up our whole body
| | |
| --- | --- |
| PLF before | PLF after |
We waited our turn for what seemed like ages as the adrenaline rushing through our bodies made time seem to travel more slowly. Finally your name was called and you were strapped into the parachute harness and kitted out with a helmet. When the team of canopy helpers and the parascending pilot were ready you went over to stand in front of the pilot and were clipped securely into the main parachute risers.
| | |
| --- | --- |
| Checking the harness | The grin says it all |
After a few last minute checks the man with the dayglow board waved to signal to the landrover and you were off; running for a few yards until the parachute took the weight and then up, up into the blue sky. The rate of climb seemed to be very fast, rising a couple of hundred feet up until the people on the ground were just specks as they craned their necks back to watch.
Then the pilot released the rope and we were floating completely free. Up in the silent wide blue sky with nothing around, no contact with the ground and only a glimmer of ripstock nylon above. After taking in the views of distant Rutland Water and some zooming turns we came in to land, touching down gently as our tandem pilot expertly flared the canopy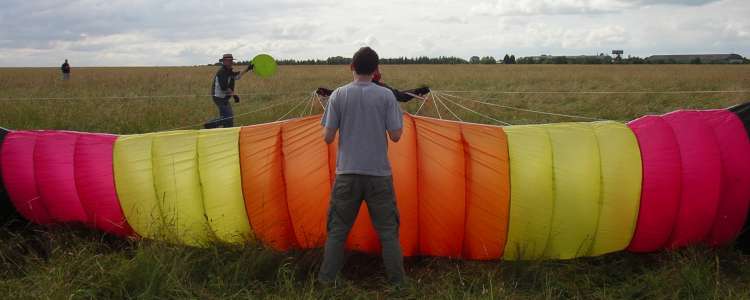 Ready for the off